These bites are healthy and delicious and only take a few minutes to put together.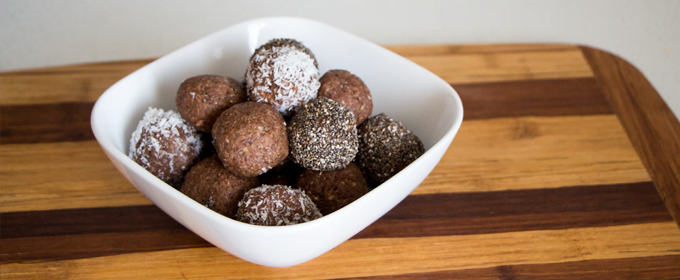 As back-to-school season rolls around again, what better time for a healthy, easy to make snack, perfect for packing in lunchboxes! This one isn't just for the kids, though. You could make a batch for snacking on at home or for the office potluck.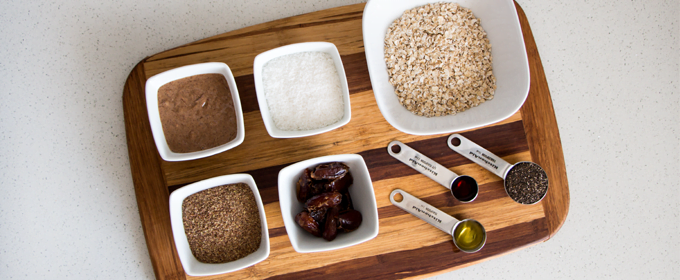 Ingredients:
1 cup rolled oats
2/3 cup unsweetened toasted coconut flakes
1 tablespoon chia seeds
1/2 cup ground flaxseed
1/2 cup sunflower seed or almond butter
1/2 cup pitted Medjool dates, chopped
1/2 teaspoon pure vanilla extract
1 tsp organic unrefined sunflower oil
Water as needed

Use a food processor to combine seed butter, dates, vanilla and sunflower oil. Add oats, coconut, chia seeds, flaxseed and pulse. Scrape down sides and pulse until everything is mixed. Add water a little bit at a time if you need more moisture.
Cover and chill in the refrigerator for half an hour.

Roll into one-inch balls and store in a container lined with waxed paper.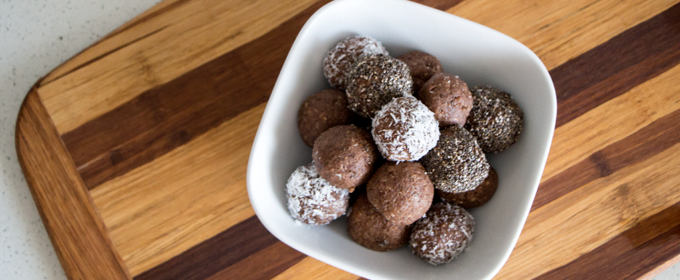 Makes about 20-25 balls.
Ok, now let's talk health benefits:
Rolled oats can help to lower cholesterol, support healthy digestion and balance blood sugar levels. They are high in protein and fiber, vitamin B1 and minerals such as manganese and magnesium.
Coconut flakes contain a lot of protein and fiber, which make them excellent support for healthy tissues and muscles, and for helping to maintain a healthy heart. They also contain zinc, which supports your immune system and encourages fast healing, and iron, which is key for healthy blood circulation.
Chia seeds provide a lot of nutrition in very few calories. One ounce of chia seeds contains 11 grams of fiber, 4 grams of protein, 9 grams of healthy fat and significant amounts of calcium, manganese, magnesium, phosphorous, zinc, potassium and vitamins B1, B2 and B3. They are loaded with antioxidants that support your gut flora and immune system and help you to battle oxidative stress. Chia seeds help to support your heart, prevent type 2 diabetes, may assist with weight loss and support bone health.
Ground flaxseeds are high in fiber and support healthy digestion. They can help with weight loss, encourage healthy skin and hair, lower your risk of heart disease and help to lower cholesterol. Flaxseeds are high in antioxidants, which support your immune system and help to fight infections like candida. They have also been shown to lower the risk of certain kinds of cancer.
Sunflower seed butter is a generous source of healthy fats and vitamin E, an antioxidant that protects against oxidative stress and supports your immune system. It also contains magnesium, which is necessary for hundreds of metabolic functions in your body, including brain and heart support.
Dates offer relief from constipation and help to correct intestinal disorders. They are great for your heart and are an excellent source of vitamins and minerals, including vitamin K, which is somewhat difficult to find in foods and is necessary for the proper absorption and use of other vitamins, such as vitamin D.
Panaseeda™Sunflower Oil is loaded with essential fatty acids that support heart health and reduce cholesterol levels. This oil can also help to support your immune system, boost your energy and reduce inflammation throughout your body.
Supplies of Panaseeda Sunflower Oil — an organic, unrefined sunflower oil pressed with our Perfect Press Technology — are limited. Get yours now!
Resources:
http://chealth.canoe.com/Channel/Nutrition/Spotlight-Healthy-foods/7-reasons-why-oats-are-awesome
http://healthyeating.sfgate.com/benefits-eating-shredded-coconut-4027.html
https://authoritynutrition.com/11-proven-health-benefits-of-chia-seeds/
https://draxe.com/10-flax-seed-benefits-nutrition-facts/
http://healthyeating.sfgate.com/sunflower-seed-butter-health-benefits-6076.html
https://www.organicfacts.net/health-benefits/fruit/health-benefits-of-dates.html